Bossa, a simple yet elegant game of tactics with a little luck, for 2. Imbued with Japanese craftsmanship
– THE ART edition "yuki (雪)"
– CLASSIC-neo edition
Two new snow-inspired editions handmade by highly skilled Japanese paper craft artisans. We are currently preparing a crowdfunding campaign on Kickstarter.
Our pre-launch page on Kickstarter (→ here) is now available in advance of the launch of the Bossa crowdfunding campaign in late January. Please support us by clicking "Receive Launch Notification" on this page!
https://www.kickstarter.com/projects/bananamoon-jp/bossa-2023-new-editions/
:::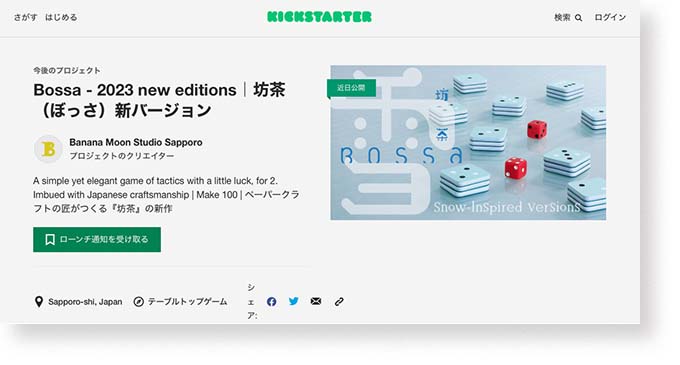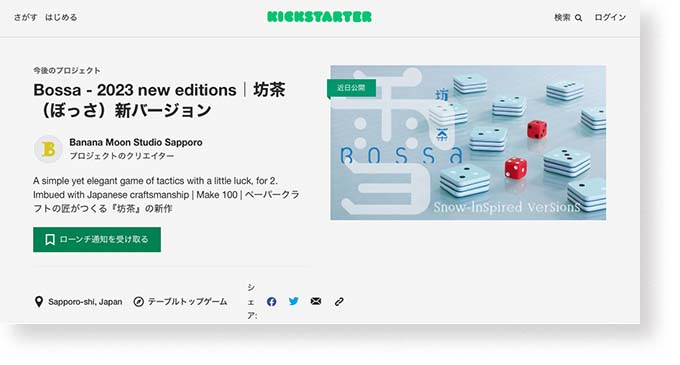 Updating the project reports on Banana Moon Games website
Project reports are available on the Banana Moon Games website [Bossa 2023 New Version] page.
We are constantly updating the progress of the project, including the development process and preparation for the crowdfunding campaign. Please check it out!