:::
Bossa, a simple yet stylish game for two: Episode 15
Written by Hiroshi Maeda, Bossa team leader
:::
Today I would like to write a "personal opinion" on what I think is interesting and fun about Bossa as a game (2023 revised).
However, I will only write a little bit about how to make strategies or tips of the game. I don't want to deprive you of the "fun" of discovering them. For more information about the rules, please refer to the video and the instructions. (→ Bossa 2023 Revised Rules)
:::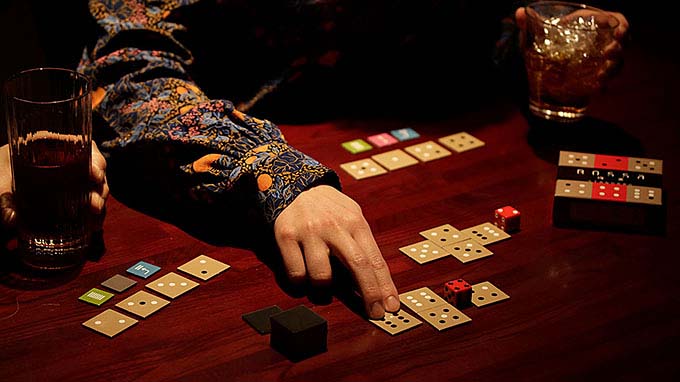 :::
Conclusion: Bossa can be played over and over again and never gets boring.
My personal conclusion, expressed in one sentence, is this.
When the first idea for this game came up in a team meeting, everyone on the team was excited. "This is awesome, this is innovative!" After about six months of brushing up the rules and test-playing, we finally completed two sets of rules. One is the Regular rules (former Advanced rules), which is recommended for gamers with lots of things to think throughout the game, and the other is the Novice rules (former Basic rules), which is exciting for speedy game development and can be easily enjoyed by beginners.
:::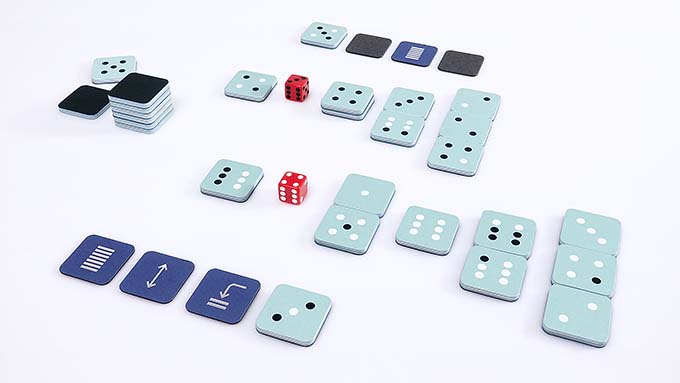 :::
The differences between the Regular and the Novice rules are the presence or absence of "own/opponent color lines," restrictions on tile placement, and victory conditions. The rules are only slightly different, and comparing the pictures above and below, they may look almost the same to you. But when you actually play the game, it may seem like a completely different game (especially the difficulty of tile placement, and the order and timing in which actions should be used).
:::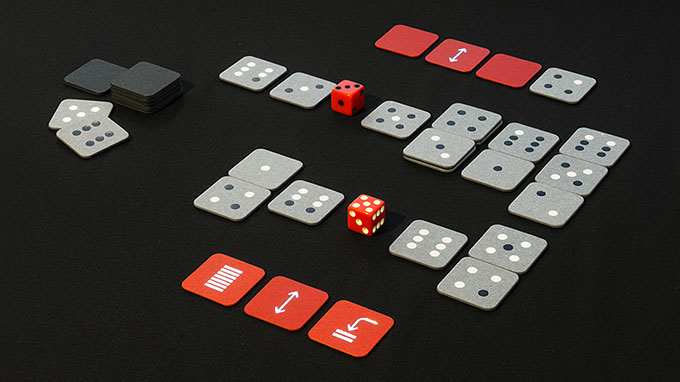 :::
So, why is it that we can play it over and over again and never get bored? I would like to list some of my own points.
:::
1. Language-independent fun
Simple design of both rules and components
Innovative interpretation of black and white pips
Tiles that can be combined and added together
Aha experience with discoveries in the field and the hand
:::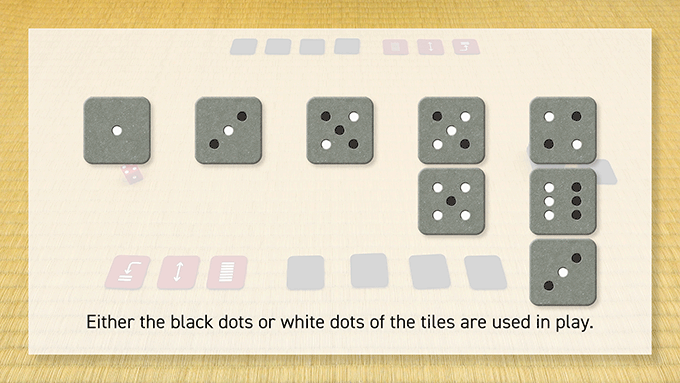 :::
2. The stage of the game changes every time.
Starting point changes every game based on the roll of the dice
Hand changes every game.
There are no set winning procedures or routines.
:::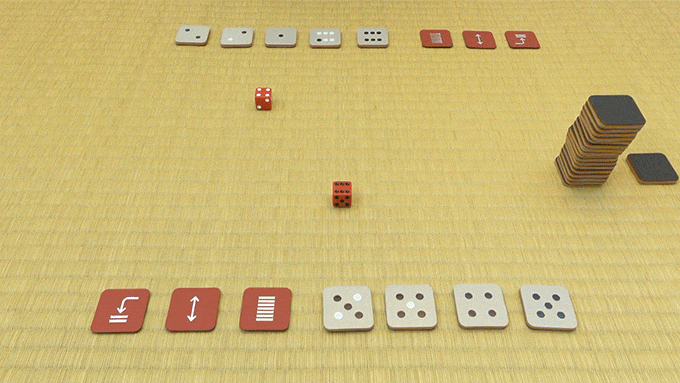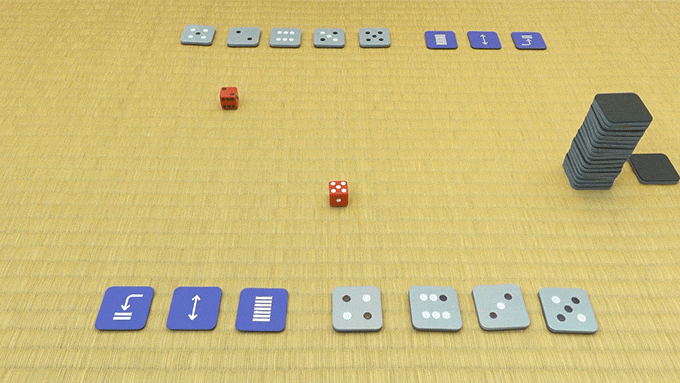 :::
3. Requires "both" strategy and luck
You can't win by luck alone (you need a strategy).
Whether you take the color line or make the first move, that's where strategy begins (Regular rules).
[2023 NEW] The starting dice roll and the initial hand are taken into account, and which modifier chip is chosen will affect later on (Expansion rules).
Choosing which combination of tiles to use now for one or two moves ahead is important.
Using three types of actions at the most effective times.
Calculate the probability – count how many tiles of the desired number are left.
[2023 NEW] Modifiers can change that probability.
And, luck of the draw is also necessary (You can't win by strategy alone).
:::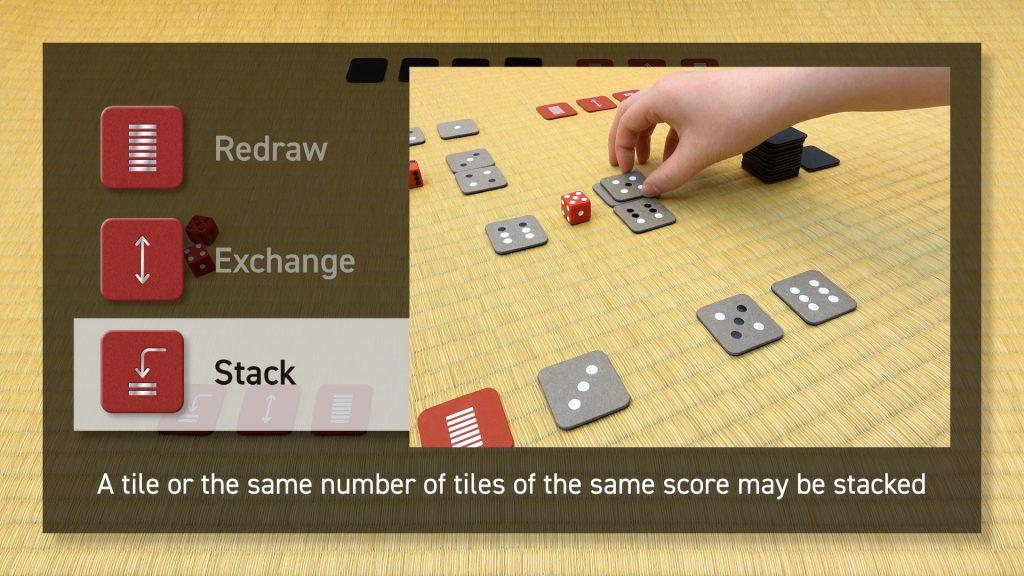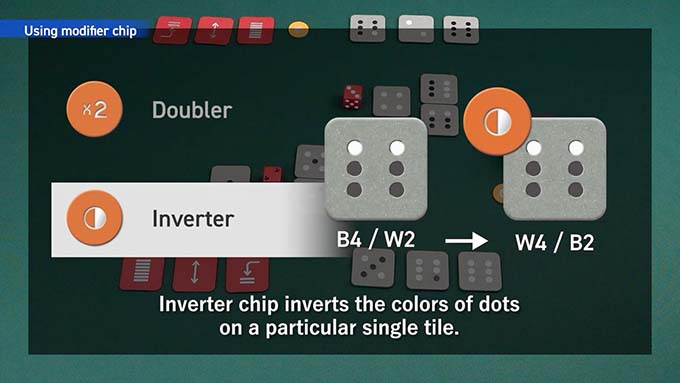 :::
4. Short play time
5 to 10 minutes per game
Enjoyable even during short breaks
Fun even in a set-match system
Although not specified in the instruction sheet (rulebook), we often use our own tournament rules when we have a large group of players, which is to play two or three games in a set. We hope you find your own way to enjoy Bossa!
:::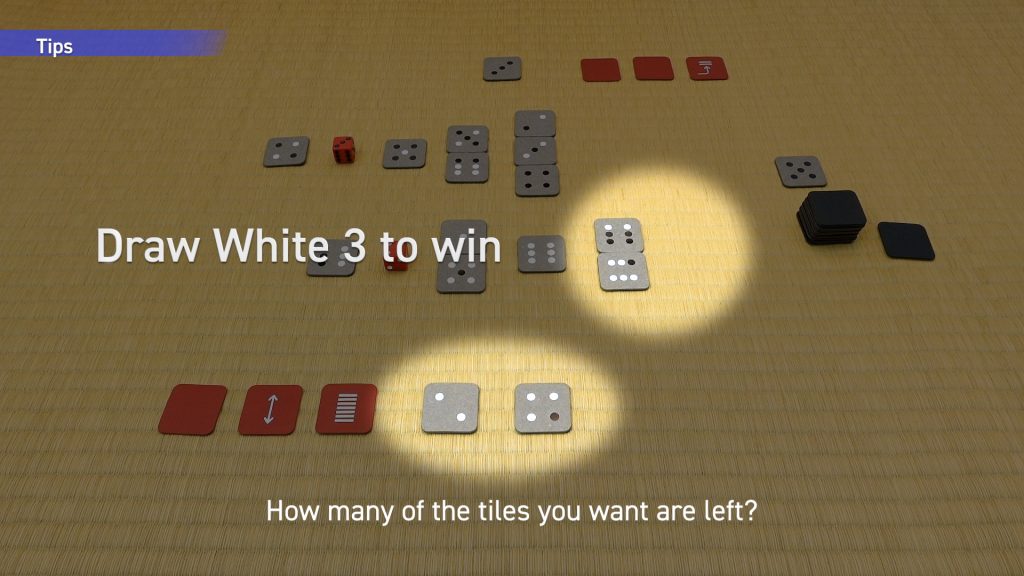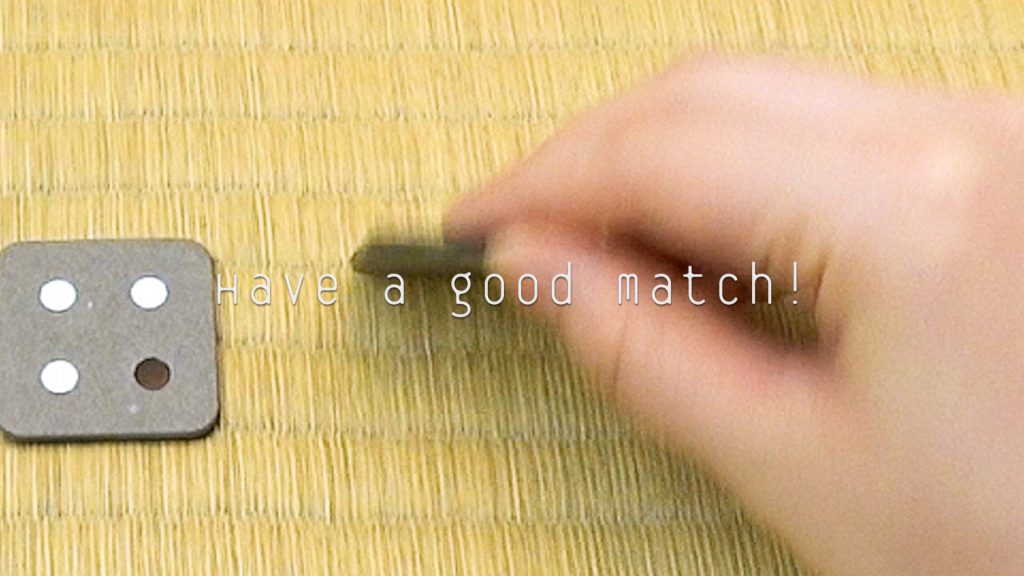 :::
To go a little further
Today I would like to go a little further and explain some tips.
Let's try to predict the remaining cards (probability of a draw from the pile).
There are 27 dot tiles in Bossa, and they consist of 6 each of 1 black and 1 white, 5 each of 2, 4 each of 3…1 each of 6.
Each player's hand is open, and the tiles already placed on their respective color lines are also visible. So it is possible to predict the probability of a draw from the pile. In other words, we can assure you that you cannot win by waiting for a tile with a dot count that has a 0% probability of being drawn. It is important to play with tile management so that you can wait for a tile with the highest probability possible.
However, the probability of drawing a tile with the desired number of dots is never 100%. At the beginning of the game, one tile is removed from the pile, so the predicted probability of drawing the final tile is 50%.
(By the way, the first reason for removing one tile from the pile at the beginning of the game, by design, is to make the number of tiles in the pile even, so that both players have the same number of chances to draw a tile fairly. And second, we designed the game so that the element of luck remains until the very end.)
:::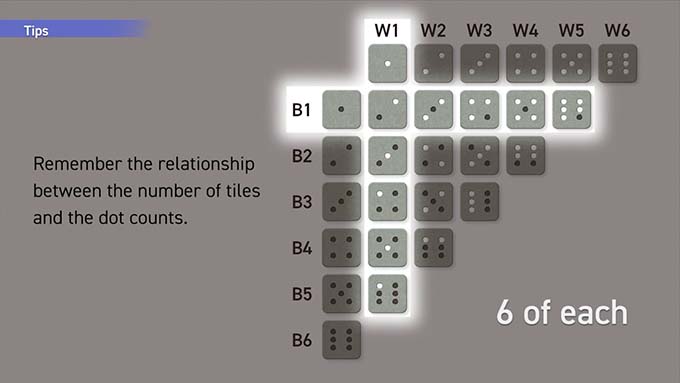 :::
Effectively interfere your opponent's strategic plan!
The probability of drawing a tile with the desired number of dots is never 100%, but with regular rules, you can create a situation that, if you proceed successfully, will ensure your victory 100% of the time. That is, when you place the fifth row on your color line (excluding dice), you already have a combination of tiles in your hand that will ensure the placement of the sixth row, and your opponent has already used an exchange action. Your opponent can no longer do anything about it, so your game plan is perfect!
However, experienced players will be able to prevent this situation before it happens. On your turn, the thing to always think about is whether to add a row to your color line offensively or to sabotage your opponent's color line placement plan defensively.
So, what is your preferred playing style? Have a good match!
:::
Thank you for reading. And thank you again for your support of our project. Hope Bossa will become your favorite!
Hiroshi MAEDA, Team Leader
:::
Bossa 2023 new editions
Now accepting late pledges!

The Kickstarter campaign ended on February 23 with success!
Currently accepting late pledges on Indiegogo for worldwide shipping.
→ Bossa 2023 on Indiegogo
:::