Banana Moon Games will have a booth at Tokyo Game Market 2023 on December 9 and 10, 2023, showcasing and selling the Bossa series, Pipo – The Innocent Aliens, and other titles.
At the play table, we will unveil for the first time our new title, GACHIJO, which is scheduled to launch a crowdfunding campaign in 2024, and will hold a play session to experience it.
The Bossa series, which was supported by backers in 40 countries through the international crowdfunding Kickstarter, is now available in two new artisan handcrafted versions for 2023: THE ART edition "yuki" and CLASSIC-neo edition! This event will be the first opportunity for visitors to see, touch, and purchase the "real" products in Tokyo.
GACHIJO is a treasure hunting game using wits and ninjutsu in a moving maze castle.
:::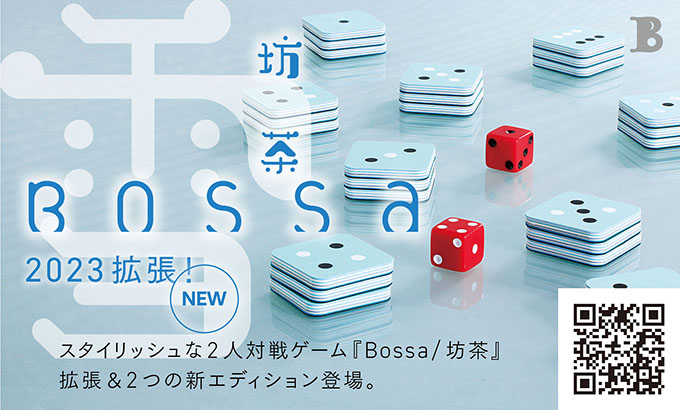 :::
Tokyo Game Market 2023 Autumn
Date: Saturday, December 9 and Sunday December 10, 2023 11:00 – 17:00
Venue: Tokyo Big Sight, West Exhibition Halls 1 & 2 (3-11-1 Ariake, Koto-ku, Tokyo)
Booth: [O12] Banana Moon
:::
[Exhibits]
A simple yet stylish game for 2 players
Bossa
・THE ART edition "yuki" [2023 New Edition]
・CLASSIC-neo edition [2023 New Edition]
・Expansion Kit (2023 Update Kit)
・THE ART edition "mizu"
・THE ART edition "hana"
・CLASSIC edition
・STANDARD edition
—
A card game played with adorable alien characters
Pipo – The Innocent Aliens
—
A treasure hunting game using wits and ninjutsu in a moving maze castle
GACHIJO – Four Ninja and the Castle of Treasures
:::
• Bossa – 2023 New Editions, Board Game (2 min.)
:::
• Pipo – The Innocent Aliens (43 secs.)
:::
• [Trailer] GACHIJO – Four Ninja and the Castle of Treasures, Board Game (1min. 32sec.)