:::
Written by Hiroshi Maeda, Bossa team leader
:::
:::
CLASSIC edition is a version of Bossa characterized by its natural look and feel. Today, I would like to share with you in detail our thoughts on CLASSIC edition and our choice of materials.
The concept of "hare" and "ke" is alive and well in our Japanese life. The word "hare" means "extraordinary" in the truest sense of the word. For example, clothes worn on special occasions such as weddings and graduation ceremonies are called "hare-gi," and their stages are called "hare no butai". So, Bossa's THE ART edition may be "Bossa for hare".
On the other hand, "ke" represents "everyday" things. Traditionally in Japan, living close to nature in the four seasons and being simple and modest have been the virtues of "ke". We wanted to have a Bossa at hand that would enrich our daily lives, that would be simple and modest but of high quality, and made of natural materials as much as possible. Yes, the concept of the CLASSIC edition is to make "ke" even more pleasant.
:::
:::
Paper tiles with a gentle touch
The CLASSIC edition dot tiles feel very gentle to the touch. There are two reasons for this. One is the use of Japanese dyed paper, which has a natural texture and smooth feel. The other is that the surface of the paper is neither "printed" nor coated with a base color. The color of both the face side and the back side of the tile is the color of the paper itself, dyed. Because there is no layer of ink or coating on the surface, the original texture of the paper can be directly touched. The foil-stamping and additionally pressed dots are slightly indented, which is also pleasant to the touch.
:::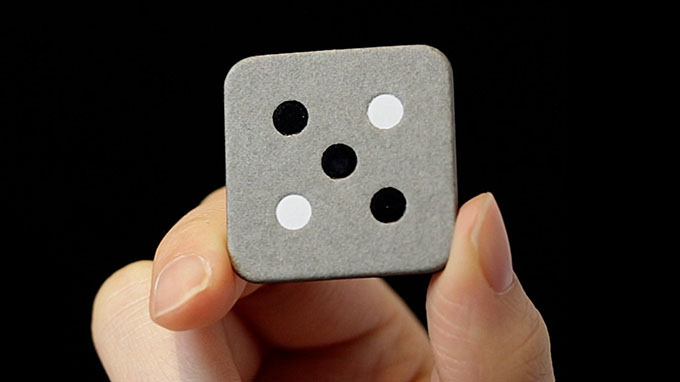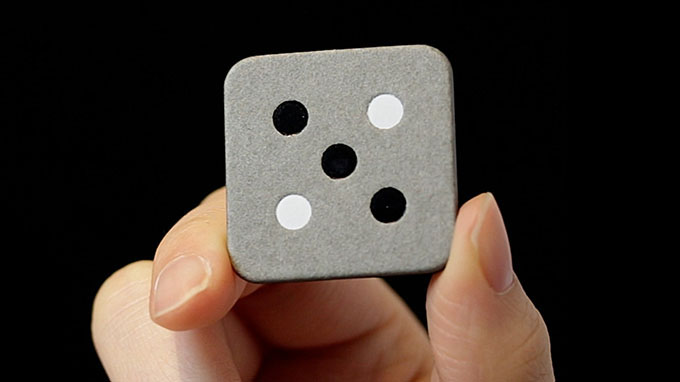 :::
Handcrafted by Japanese artisans
Looking at the cross section of a CLASSIC edition tile, you will notice that there is no card board or chipboard core as in typical paper tiles or chips. It is a two-layer structure consisting of a thick gray paper on the face side and a thick black paper on the back side (strictly speaking, it is composed of more layers, since each thick paper itself has multiple layers). They are dyed papers, so even the cross section shows beautiful colors.
Let us show you the proof that each one is handmade by skilled Japanese artisans. Please take a look at the photo below. You can see that the angle between the surface and the cross section of the tile is not sharp not only on the face side but also on the back side. In general machine production, the face side is rounded and the back side is sharp. Naturally, artisan-made tiles have a gentler feel to the touch.
* CLASSIC edition tiles are handmade at Shichisei Sangyo, a paper craft artisan company in Sapporo, Japan.
:::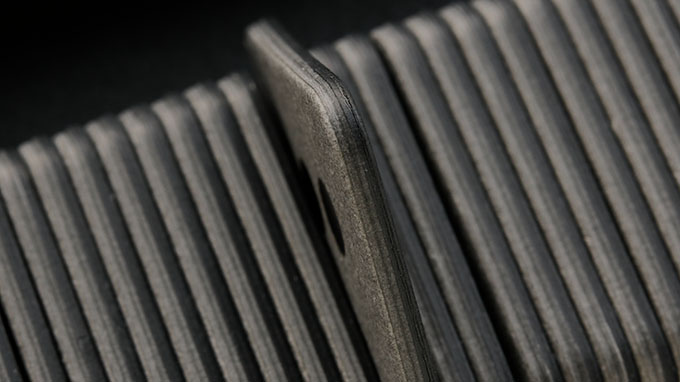 :::
Tiles that "breathe" with natural materials
Made of natural materials and uncoated to feel natural to the touch, CLASSIC edition tiles seem to "breathe" air just like we do. If you look closely, you may notice slight warping depending on conditions such as temperature and humidity. For example, can you see it in the photo above? It is so slight that you may not notice it, and it is not enough to interfere with your game. We are pleased if you understand that this is also a proof of natural materials.
:::
:::
The retractable box is made of paper and is surprisingly elaborate
The CLASSIC edition box is retractable. It opens smoothly, closes pleasantly with a natural feeling, and holds. However, this paper box uses no metal fittings or plastic parts. This was made possible by the elaborate paper processing technology of a Japanese box specialist. The "V-cut" technique, in which a V-shaped incision is made during processing, creates precise angles and surfaces to achieve strength and precise interlocking. This is amazing! When I first saw this technology, I was deeply impressed and strongly wanted to adopt it for Bossa boxes.
* CLASSIC edition boxes are manufactured by Morita (https://www.hakop.jp), a company specializing in boxes, in Sapporo, Japan.
:::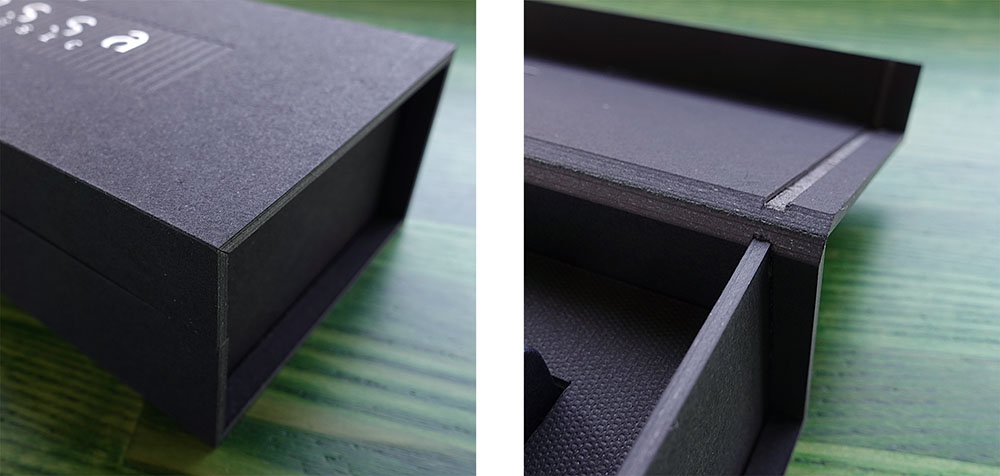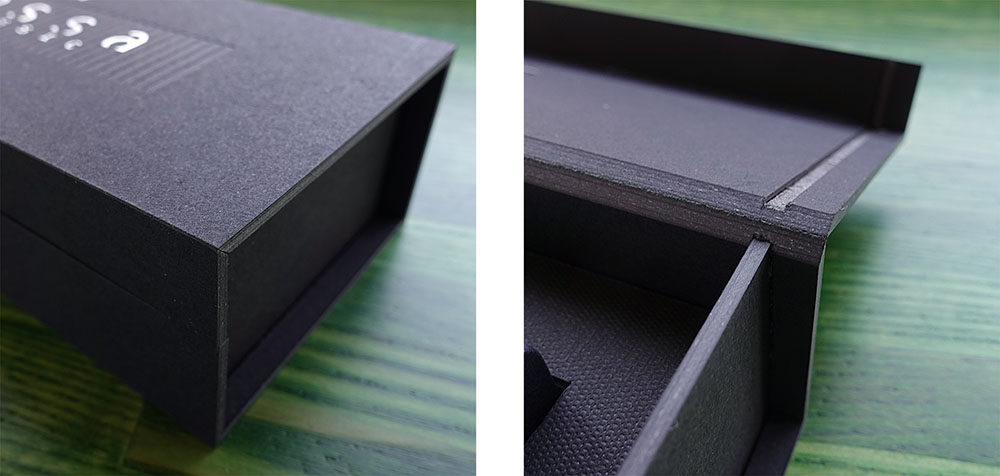 :::
Environmentally conscious material selection
We want to use natural, safe, and environmentally friendly materials whenever possible in the products we use on a daily basis. Therefore, we prioritize recycled paper blended, ECF (Elemental Chlorine Free) pulp blended, and FSC (Forest Stewardship Council) certified paper in our paper selection. We use a "minimum" amount of adhesives made from petroleum-derived raw materials to ensure the bonding strength of the paper used for tiles and boxes, but we do not use petroleum solvents in the manufacturing process. Of course, we use only materials whose safety has been verified and approved by Japanese laws and regulations. The entire retractable box is made of paper, and no metal or plastic parts are used.
It may not be perfect, but we have put the utmost care and effort into this CLASSIC edition that we can do for the environment.
:::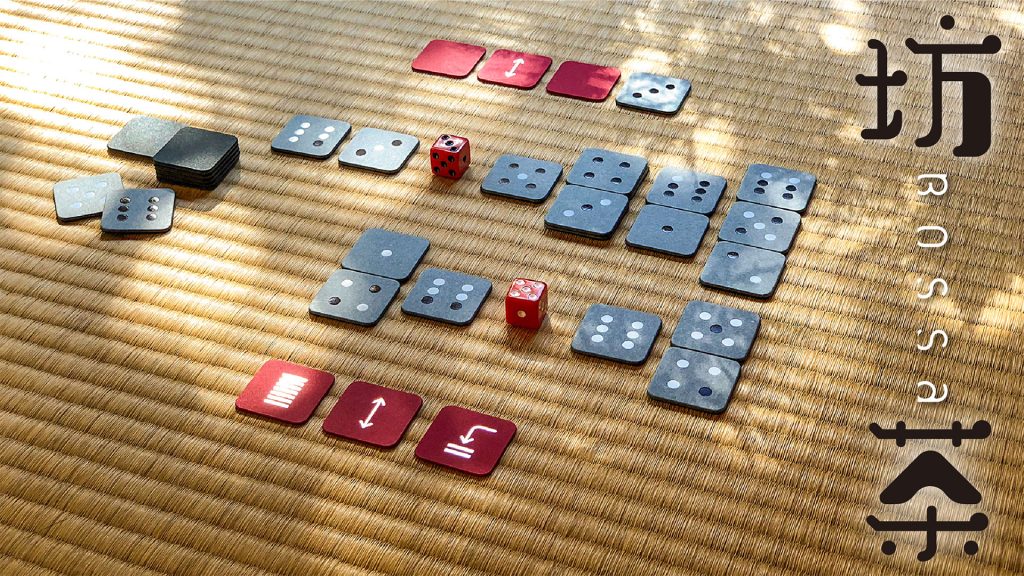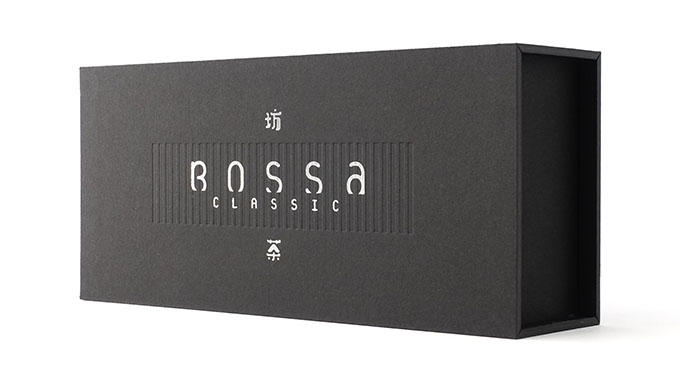 :::
Thank you for reading. And thank you again for your support of our project. We hope you will treat the Bossa CLASSIC edition with care and use it in your daily life. And may it become your favorite.
Hiroshi MAEDA, Bossa team leader
:::
Bossa on Indiegogo [Ending Soon]
Late Pledge live on Indiegogo now!
The last production quota of this year.
Artisan-made versions are available in limited quantities.
https://www.indiegogo.com/projects/bossa#/
:::
Links to Bossa's Story episodes
:::